Liam Moggan has been involved with coaching and coach development for over 40 years. He is affectionately known in Irish sport as 'The Coaches' Coach'. Liam has served in the background with numerous Irish teams and individual sporting successes across a diverse range of sports. He is recently retired from his role as Coach Educator in Coaching Ireland where he served with distinction. He has both an educated and truly unique insight into the value of sport and what it can offer you. I feel this insight is something that can be of great benefit to you. My advice is to read and reread this fabulous piece of writing. Enjoy!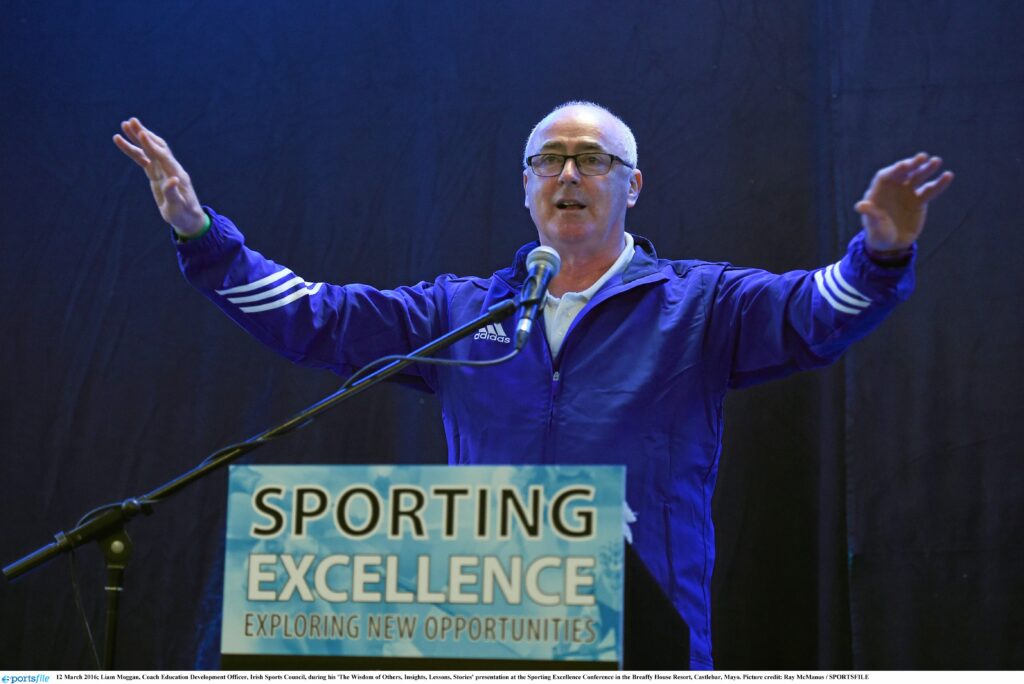 A group of Kenyan athletes stayed in my home a few years ago. After their first meal, their young leader stood up and thanked my wife for making them "fed up!" It was a good meal and I've stretched my wife's patience by repeating that story many times! Words carry weight, they have meaning. And yet, we all carry a vocabulary of what I call 'words when we've nothing else to say 'words'. Those words stretch meaning. They lose context. They lose punch. Words can be dangerous.
Sport is one of those words. It covers a multitude and can be wrapped around so much it eventually means little. What is it? I've been involved in sporting activities all my life. I was an athlete. I played basketball. For years I worked as a Physical Education teacher. In another life I delivered Tutor Development courses for people educating coaches. I, too, am a coach. I walk. I cycle. Much of what I do falls under the umbrella of that ubiquitous term 'sport'.
The most common description of sport is broad. It covers competitive and recreational activities. It includes traditional games as well as exercises aimed at improving physical fitness, health and well-being. It all sounds good; a word when we've nothing else to say 'word'.
Those wide descriptions miss what I believe is the very essence of sport. Let's be honest it is difficult to explain. I got involved in sport and stayed involved because of the experience, the feeling, the joy, the challenge, the company and the craic. How can a single word encompass all of that? Passion describes it best for me. Above all else, sport is about passion.
For me that passion started a long time ago. The Mossy Bank is a bowl cut out of the earth with soft grass for a carpet. It was at the bottom of McGrath's field. Behind it lay the railway line and the spires of Tuam's two Cathedrals guarded its side. We rarely walked to the Mossy Bank. It was a place to rush to.
If it was to be Croke Park the goals of the double ESB poles defined the Hill 16 end. For the Ryder Cup, bucket size holes were permanent fixtures near the edges. Olympic sprint finals were contested along the straight stretch near Farragher's field. A show jumping course of stonewall fences and leafy branches was a temporary fixture. Trains to the Sugar Factory provided perfect props for Cowboys and Indians.
The Mossy Bank was my first gym. We ran there. We strolled home. In between we jumped, tumbled, wrestled, rolled, sprinted, threw things and kicked footballs. We rested and chatted within its soft slopes. We had accidents. We fell and got hurt. Sometimes we had fights. Far enough from town and adults our imaginations ran free. It was anywhere or anything we wanted it to be. We were anyone we wanted to be. It was the best sports facility I've ever known. I loved the Mossy Bank.
I am one of the lucky ones. More formal competitive settings came along when I started to race and play basketball. I was passionate about those too. I developed an appreciation for new challenges and satisfaction in the mastery of new skills. There were friends again, sometimes fights again, sometimes accidents. It didn't always bring out the best in me. But imperceptibly, bit by bit there was improvement. Improvement in self-belief, movement skills and social skills. Mind, body and soul.
The sense of what I am today is shaped by those activities. The people I met and the places I visited contributed to make me who I am. I'm immensely grateful. The commitment, effort and dedication embedded then has stood to me all my life. Change is inevitable, improvement is earned by the sweat of one's brow. The sporting activities and good people I met helped me improve over time. There's no shortcut to improvement. Good things can happen and bad things can happen along the way, but improvement only comes about with hard work. True success is to labour.
Time spent acquiring skills that have absolutely no application outside of sport might seem to some like time wasted. Being able to run fast or dunk a basketball or kick a football has limited social value. Even if they have, time will diminish it. The best athletes slow down eventually. Playtime can have added value when participants learn vital life skills and are encouraged to grow into fully-rounded, caring, human beings. Sport has potential to offer that.
Dedicated, committed adults played a significant part along the way. I was lucky to have supportive parents. I was blessed to meet Bro. Willie Morgan in secondary school who guided, nurtured and taught with patience and expertise. They helped create a climate where I was allowed to express myself, to extend myself and evolve my own style, my own personality. Sport shaped what I've become. Sport was and still is my passion. After all what's engraved in youth is engraved in stone.
Pat Duffy, a friend and colleague who was Director of the National Coaching Training Centre in Limerick and who sadly passed away a few years ago, led many innovative and effective programmes around the development of sport worldwide. Pat believed that sport had the potential to offer an experience such as mine to everyone. He was passionate that sport is not just for the talented, the champions, the big children and early developers. Pat saw sport as an enormous resource for good. He saw sport as a vibrant part of any decent society. Pat believed that there is an appropriate sporting activity for everyone. He had the foresight too to understand that in order to bring about improved participation levels we first must find the right way and a better way to explain and promote sport.
If others are to benefit as much as I have we must search for and find a right way and a better way. We need to encourage people to do something they enjoy rather than be better doing something than someone else. We need a climate that promotes learning rather than structures that make participants dependent; less about what coaches do and more about how people, particularly children and teenagers, learn.
All God's creatures have a place in the choir. We need to accommodate and encourage those who sing high and those who sing lower. Variety is key. Sport is for everyone. It is not just for those who conform to some predetermined body type or shape or age. If people want to participate they will. If they don't, they won't. It's all about the passion. We need to promote a love of movement, not sport. We should emphasise feel good factors, like self-belief, confidence, commitment and control, not just competition.
Sport is not always about sport. It can be about commerce and money and sponsorship. Much of how it's promoted is about winning. National Governing Bodies have well-financed High Performance units that plan and prepare elite senior athletes for international competition. They have stolen the term 'high performance' as their own. It implies that what happens in clubs and gyms and fields and pitches and Mossy Banks all over the country every day is all well and good, but it's not high performance. It is too easy to discredit high performance everywhere by kidnapping words and labelling them to specific targeted areas. High performance sport can be experienced in many ways by many people and it starts in homes, clubs and communities.
In the Mossy Bank we played and in playing we became problem-solvers, risk-takers and innovators. We played. We designed rules and stuck to them. We included everyone. From those generations of active thinkers and active youngsters came an explosion of new ideas and innovation. From that environment grew a passion to stay active, a resilience to face the unknown, to face issues of right and wrong and to oftentimes extend ourselves beyond our comfort zone. From that environment grew many great sportspeople. Sport provided us with a background to trust our own initiative and to learn for ourselves.
Deep down we know that all kinds of sports are valuable. Banner events get attention. They catch the eye but there are examples everywhere. Let me share one. Near the end of a morning session of the Paralympic Games at the Olympic Stadium, London in 2012, a Men's 1500m heat took place. A runner who finished nearly 6 minutes behind the second to last competitor made an impression that will never leave me.
Houssein Omar Hassan from Djibouti was missing a right arm. At the start of the race he injured his right ankle. Yet he was determined to finish. Hassan never strayed from lane three, allowing faster runners the freedom of inside lanes. His progress was slow. As he moved around the track he was identified by name and as the only athlete from Djibouti competing at the Games. Gradually, each section of the 84,000 crowd stood in sequence to applaud and cheer. It was like a Mexican wave in slow motion. He finished in 11 mins. 23.50secs, the slowest 1500m I ever saw!
It was not what we call high performance. Nor was it in tune with the Paralympic message of elite sportspeople competing on the world stage. Houssein Omar Hassan moved to a different beat. The spontaneous, spectacular outburst of applause was heartfelt. It was not patronising. So what was going on?
This impulsive expression of joy and admiration demonstrated that what was happening before us was something special, something genuine, something precious. We may not have been able to describe it, but we knew it was happening. 84,000 of us knew it! Such moments are not always palpable but when they happen, we know it. We sense it. This was one of those unforgettable moments. It felt wonderful. It was an honour to be there. Passion was abundant.
Somehow, someway, all the time, we must get those stories out there. Sport matters. Our country has a rich, proud tradition of sport. We need sporting heroes all the time. We need heroes that we can see and believe in and admire; heroes for the next generation to dream about and make-believe with down the Mossy Bank.
It is my dream that sport will reach beyond the formal and connect with a passion that exists in every person, home, club and community. Formal, top-down structures are petrified of passion and therein lies a real challenge. Sport is not meant to be about commerce and money and sponsorship. There must not be an institution of sport because sport by its nature cannot and should not be institutionalised. Localised is the way forward.
The prevalence of a 'winning' mentality has thrown an imbalanced spotlight on tangible assets. Leagues titles and championship medals have their place. I've been alongside winning teams and individuals and enjoyed being there. However, there is more to sport than records and results. Intangible assets like passion do not fit an institutional image because passion cannot be measured. Like sport, it's a feeling, an experience, a joy.
I love the Arts. They thrill me and contribute to my life every day. Sport does not have a monopoly on that kind of fix. However, our bodies are designed to move and within an active healthy body other joys are amplified.
The most common guidance offered down the Mossy Bank was to 'go in there and play any old how'. It was fierce liberating. It released me to be me, to do my best, to bring my own style, to make my own decisions, to enjoy myself. If future generations are to be liberated and to thank us for making them 'fed up' we need to up our game. We need to feed the passion of a new generation, feed their enthusiasm and integrate fun and enjoyment into the wonderful world of sport.
Miles to Run and Promises to Keep,
Liam Moggan  
This essay is an extract from Be the Best You Can Be in Sport- A Book for Irish Youth