Mick McCarthy is a Professional Football Manager. As a footballer he represented the Republic of Ireland on 57 occasions. Nicknamed 'Captain Fantastic', he led Ireland as captain in what was a glorious period for Irish football during Euro '88 and Italia '90. At club level he played for Barnsley, Manchester City, Celtic, Lyon and Millwall.
He went on to manage Millwall and then the Republic of Ireland where he guided Ireland to the knockout stages of the 2002 World Cup. He later managed Sunderland, Wolverhampton Wanderers and Ipswich Town. His most recent job saw him return as manager of the Republic of Ireland football team. Here, Mick shares his insights from a lifetime in football into the qualities he believes allows a player to reach their potential.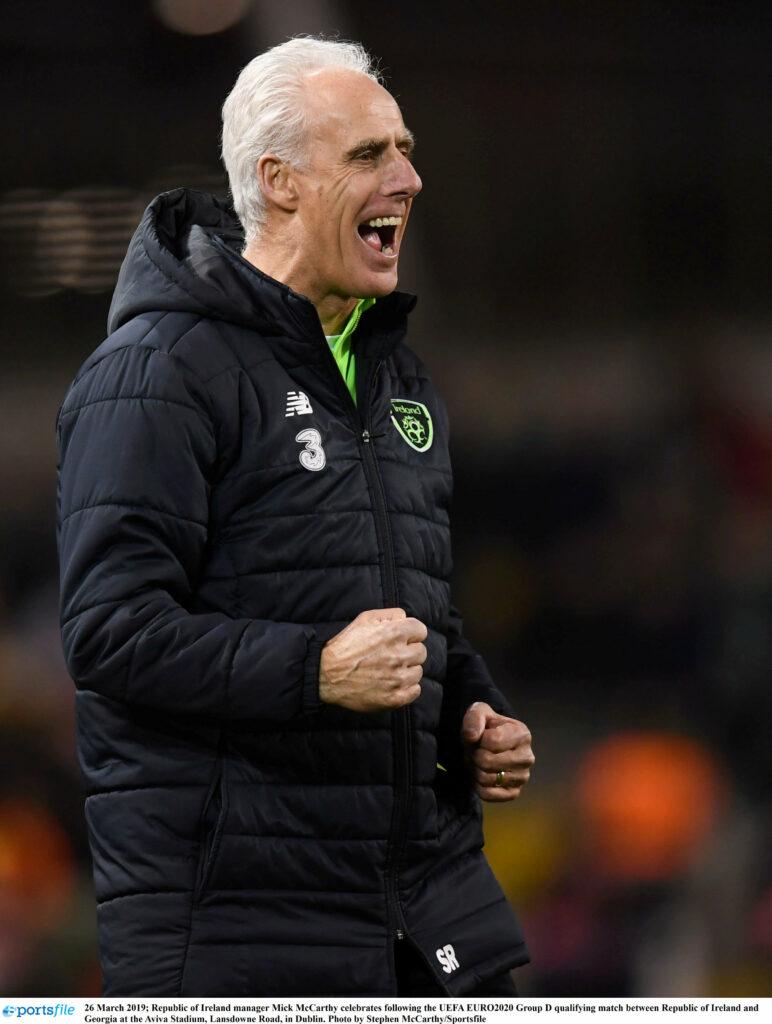 This essay is an extract from Be the Best You Can Be in Sport- A Book for Irish Youth
I have been involved in football for over fifty years and that's a long time! I have played and managed at both club and international level. Nobody can ever truly say they have seen it all, but it is fair to say I have seen and experienced a lot; the good times and the not so good times, the ups and the downs. The footballing landscape I grew up in is completely different to today's millionaires' club. I have worked with hundreds of footballers over the years and in this piece I will aim to give my insights into what it is I have come to believe are the most important qualities in the player.
Talent is the most obvious place to start. There must be a baseline of talent and ability there: the touch, the awareness, the vision, the speed, can they see the pass and so on. We are all looking for this talent and when watching a youth football match, the technically gifted stand out a mile… anyone can pick them out. What is not so obvious is whether or not the talented individual will be able to maximise their ability as they age and mature. The world is full of 'could have beens'.
I am always asked, 'who is your best player?' I take this question to mean, 'who is your most effective player?' The player I want is the one who can give 7 out of 10 almost every day, a half a dozen 9 out of 10s a year and I'll even allow them an odd 6. Consistency is king. To be of significant value the player must be consistently effective. Every manager wants to know: can I depend on them? For me, I really want to know what I will get when we are 1 – 0 down.
There are a number of indicators that lead you to trust a player and their ability to be consistent. The demeanor is always one. Do I get a 'good morning gaffer' every morning or is it just when the mood takes them. This is a basic respect. For me, respect is a two-way street and it must go both ways. Respect goes a long way in sport and in life. Punctuality is another one; who is first in the door? However, it must be noted that first in the door is of little value if it simply means, first to the canteen for tea. I am looking for the players who use this time wisely and pay attention to the finer details of prehab, individual skill- based work and so on. These are things that allow you to reach your potential. These are the things that show you the player's desire and ambition.
There are so many levels in football that there is a place for almost everyone. Sometimes the most talented end up paddling along in the lower leagues. This is a shame. While everyone strives for a big contract early in their career it can be a dangerous thing if the desire, drive and ambition isn't strong. Poor decisions are there to be made. Players can easily forget why they got into football and once they lose sight of their 'why' they are in trouble. Money can make you comfortable and the comfort zone is no place for a player who wants to maximise their talents and reach their potential. It is easy to end up a relatively big fish in a very small pond. The malaise of a nice lifestyle can dampen the hunger. I find it really difficult to watch a player who with a little bit more fight and desire could really make something better of themselves. Money plays a huge part in professional football. There are many downsides to this, but give me a player who wants to strive and work towards earning a 50k a week contract over the one who is happy to coast along at 5k a week when with a little bit more ambition and drive they could aspire to better.
When managing at Championship level the players I want are the ones who want to get to the Premier League…and hopefully bring me with them through promotion. My reasoning is simple, these are the type of players who will inspire those around them, the ones who will set the standard, energise the squad and demand the best from everyone. They know why they are there and they have a fundamental belief in hard work. Their attention to detail is better, as is the focus of their life and lifestyle. The line is really so fine and many good people fall by the wayside. If you are given a chance, you have to grab it and maximise it because someone else will take it from you. The coach's job is to challenge and assist the player as best we can, but the player's job is to grab every opportunity that is given to them with both hands.
I think now of players I feel who really maximised what God gave them. Stephen Ward, who I signed at Wolves from Bohemians, is one who stands out. He has played 50 times for Ireland and spent years playing Premier League football. It is remarkable how he has made himself into a top-class player. Another one is Matt Doherty. When I signed him, he was not the fittest or the most obvious buy, but I knew I was getting something. After a couple of loan stints, he has risen to every challenge, progressing from League One, through the Championship and into the Premier League and the Europa League. He is now arguably one of the best wing-backs in the Premier League. You must remember the Premier League is the biggest and best league in the world. It is some achievement. He has absolutely maximised his potential and made 300 appearances for Wolves before recently moving to Spurs. I take my hat off to both of them. I admire them for their achievements. Other, perhaps more obvious talents, yet with that same ceaseless desire to be the best they could be were Robbie Keane and Shay Given. They stood out as teenagers and were model professionals who enjoyed the stellar careers that their talent and hard work deserved.
Application in training is an area I must address and a player who springs to mind here is Martyn Waghorn. He was a player I signed at Ipswich for 250k having been through a number of clubs. After signing him we discussed his jersey number and he said that his preference was Number 9. I explained to him that Number 9 was a 'big jersey' to fill and he assured me he was up for the challenge. After watching his first training session with the team I was really disappointed. It was as if he was afraid to stand out and was there with the mindset of being liked by the squad as opposed to being respected by them. I spoke very directly to him after the session and explained to him that that wasn't the way my Number 9 trained. From that day on he was brilliant for me. He trained with fight and fire and ignited those around him. His thought process completely changed. He trained with the intention of being as good as he could be. He went on to 16 goals that season and we sold him to Derby for 5.5 million. My kind of player!
Training is not a place to make friends, this happens away from the field. Training is a place you strive to be different and better than the rest in a positive manner. Each training session is an opportunity to maximise your talents and in order to reach your potential you must truly appreciate this. Often, you see a new or young player join training with the first team and their mindset is that they want to blend in. I want the exact opposite. I want them to stand out but again for the correct reasons. Flynn Downes is one such player that springs to mind. I can still remember his first training session with the Ipswich Town first team. He repeatedly demanded the ball and snapped into three tackles with no regard for names or reputations. It was instantly obvious that he meant business and was a first team player. Training and playing with focus and application is how you gain the respect of your fellow players and management.
I view the world quite simply and this has served me well. However, I must warn you the devil is in the detail. People talk about being professional and training hard but often the pictures don't match the sound. My advice to you would be listen to your coaches, seek challenges everywhere you go, know that there is always another level and never cease to strive for it and always remember why it is you play the game. Hunger, fire and fight matched with the correct input of expertise and guidance will see you a long way. We can't all be Premier League stars but one thing we can all be is the best version of ourselves.
Good luck to you,
Mick McCarthy